MOVIES
MOVIES REVIEW :OCEANS 8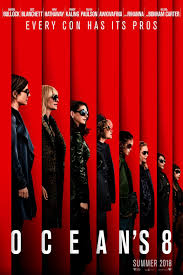 My name is Maryam Adeeba bt Ahmad Kamil. I was born and raised in Taiping, Perak. I currently study a Bachelor of International Business Management in Universiti Utara Malaysia Sintok, Kedah. During my leisure time, I like to watch movies and dramas. Movies give me an experiences that I can't get anywhere. Since my family can't afford to travel abroad, movies give me the fun, fantasy, experiences and it also showed me the world that I haven't got to feel yet. One day, I hope I can travel around the world with my loved one and create my own fantasy. By watching movies, I can learn more about life, how grateful I have to be and it also improved my social and communications skills. I like to watch crime action, fantasy, mystery, romance genre movies. Here is my current favourite movies.

My first movie review is about Ocean's 8. I like this movies because it had powerful actress, great storyline, great mystery and well planned heist movie. Ocean's 8 was released by Warner Bros Pictures on 5 June 2018. It was directed by Gary Ross and written by Ross and Olivia Milch. This movie was about newly paroled con artist Debbie Ocean (Sandra Bullock) convinces her former partner-in-crime Lou (Cate Blanchett) to join her in a new heist. They assembled a handpick team which are the bankrupt disgrace fashion designer, Rose Weil (Helena Bonham Carter), the jewellery maker, Amita (Mindy Kaling), the retired fence who now are suburban mom, Tammy (Sarah Paulson), the talented hacker, Nine-Ball (Rihanna) and lastly the pickpocket, Constance (Awkwafina). Debbie plans to steal a $150 million necklace from Cartier called the Toussaint, during the upcoming Met Gala and use movie star Daphne Kluger (Anne Hathaway) as a mule. The team manipulates Daphne into hiring Weil, and convince Cartier to loan Daphne the Toussaint. Tammy secures a job at Vogue and gains access to the gala, and Debbie leads Daphne to invite art dealer Claude Becker, whose betrayal sent Debbie to prison, as her date. Debbie plan revenged against Becker by welcomed Daphne into the team. To further frame Becker, Debbie hires actresses posing as elderly socialites to sell the Toussaint pieces and deposit the money in Becker's name which successfully lead Becker taken into custody. As I thought this movie was about stealing $150 million necklace only but in the end Lou and Debbie reveals that they steals the entire jewelleries on the exhibit that costs hundred millions more which brings out the most interesting part of this movies. There's a certain ruthless simplicity to Debbie's plan, and the execution is done smoothly without any major hiccups. As the crew completed the heist, they enjoyed their separated luxury life.
My name is Liyana Binti Kamaruddin. When i was small, i have been pampered by my mother with lots of storytelling before i went to bed. It creates my imagination to something that i wanted to make it real. Hence, growing up is never easy for me and every single of us. I enjoyed my teenage life with my friends and mostly we spent time watching movie. Every person will have one good movie to really make you realize that you are filled with love by everyone or one movie that builds your motivation or that can makes your mind blown. Every person will have their favorite genre movie such as thriller, psycho, horror, sci fi, romance and etc. In my case, my genre is thriller, adventurous and sci-fi.

MOVIE REVIEW : SPLIT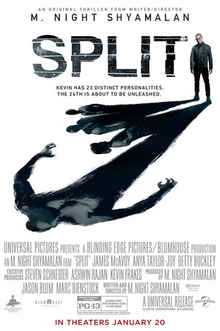 I choose movie as my hobby and i would like to share a movie review. The title is SPLIT. This movie is about KevinWandell that have 23 personalities in one body. He had Dissociative Identity Disorder or commonly known as DID. DID is a long-term mental disorder of a type involving a breakdown in the relation between thought, emotion, and behavior, leading to faulty perception, inappropriate actions and feelings, withdrawal from reality and personal relationships into fantasy and delusion, and a sense of mental fragmentation. He kidnapped three teenage girl and killed one of the father in the parking lot. One of the girls, named Casey Cooke was raised and abused by her uncle that with DID. She had knew how to act around when she faced him by her own. Only 8 personalities are shown in this movie and there will be one personality formed in the end of this story that called the 'Beast'.This is interesting to share because this kind of mental disorder are really rare and can help to understand about DID and the effect of it has on the person and the surrounding. I can rate this movie 10/10.

$GO BACK TO THE KOOL KIDS$